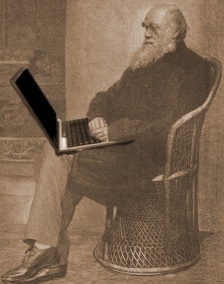 Cambridge University is making Charles Darwin's complete works available online -- for free -- including the notebook Chuck wrote during the voyage of the Beagle.
From the BBC
:
The complete works of one of history's greatest scientists, Charles Darwin, are being published online.





The project run by Cambridge University has digitised some 50,000 pages of text and 40,000 images of original publications - all of it searchable.





Surfers with MP3 players can even access downloadable audio files.





The resource is aimed at serious scholars, but can be used by anyone with an interest in Darwin and his theory on the evolution of life.





"The idea is to make these important works as accessible as possible; some people can only get at Darwin that way," said Dr John van Wyhe, the project's director.
Read the rest
.
You can find
the complete works (so far) here
.
Image source.
Tags: