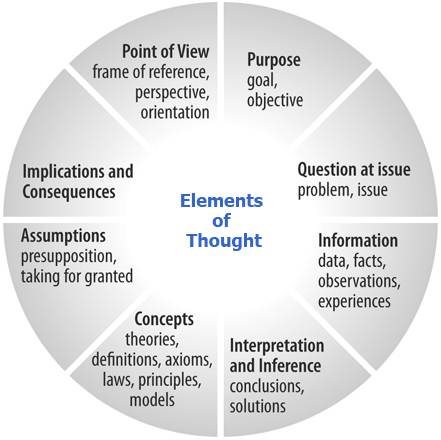 This is a cool discussion on critical thinking that revolves around the decision of the Texas GOP to oppose the teaching of critical thinking in the schools. This is big enough news that even
Stephen Colbert had his entertaining take on this issue (
click here
).
This what their
2012 platform
says:
Knowledge-Based Education – We oppose the teaching of Higher Order Thinking Skills (HOTS) (values clarification), critical thinking skills and similar programs that are simply a relabeling of Outcome-Based Education (OBE) (mastery learning) which focus on behavior modification and have the purpose of challenging the student's fixed beliefs and undermining parental authority.
"
I done wan nobody makin my kids think. Hell, I tell em wha they belief
."
Here are a couple of other sections from their education platform:
Religious Freedom in Public Schools – We urge school administrators and officials to inform Texas school students specifically of their First Amendment rights to pray and engage in religious speech, individually or in groups, on school property without government interference. We urge the Legislature to end censorship of discussion of religion in our founding documents and encourage discussing those documents.
And this . . .
Controversial Theories – We support objective teaching and equal treatment of all sides of scientific theories. We believe theories such as life origins and environmental change should be taught as challengeable scientific theories subject to change as new data is produced. Teachers and students should be able to discuss the strengths and weaknesses of these theories openly and without fear of retribution or discrimination of any kind.
Oy Vey! I guess they think that if they can make the population dumb enough and incapable of questioning what they are told, then they can do whatever they want. It has worked so far.
But this is the state that gave us Governor and then President Bush, not to mention that
strangely incoherent man
who ran for the GOP nomination this year, Governor Rick Perry.
By the way, cognitive psychologist Daniel Willingham (University of Virginia), and author of
Cognition: The Thinking Animal
, argues that it cannot be taught
in this 2007 article
.
Willingham defines critical thinking first, a defintion that feels hard to argue with, but must feel scary to the Texas GOP:
Critical thinking consists of seeing both sides of an issue, being open to new evidence that disconfirms your ideas, reasoning dispassionately, demanding that claims be backed by evidence, deducing and inferring conclusions from available facts, solving problems, and so forth. Then too, there are specific types of critical thinking that are characteristic of different subject matter: That's what we mean when we refer to "thinking like a scientist" or "thinking like a historian."
He then suggests that all the research to date says that we can't teach critical thinking:
After more than 20 years of lamentation, exhortation, and little improvement, maybe it's time to ask a fundamental question: Can critical thinking actually be taught? Decades of cognitive research point to a disappointing answer: not really. People who have sought to teach critical thinking have assumed that it is a skill, like riding a bicycle, and that, like other skills, once you learn it, you can apply it in any situation. Research from cognitive science shows that thinking is not that sort of skill.
Finally, here is an expanded definition of critical thinking that helps set the stage for this discussion (and I highly recommend the paper these quotes come from, Critical Thinking: Why Is It So Hard to Teach? From
American Educator
, Summer 2007
).
Critical reasoning, decision making, and problem solving—which, for brevity's sake, I will refer to as critical thinking—have three key features: effectiveness, novelty, and self-direction. Critical thinking is effective in that it avoids common pitfalls, such as seeing only one side of an issue, discounting new evidence that disconfirms your ideas, reasoning from passion rather than logic, failing to support statements with evidence, and so on. Critical thinking is novel in that you don't simply remember a solution or a situation that is similar enough to guide you. For example, solving a complex but familiar physics problem by applying a multi-step algorithm isn't critical thinking because you are really drawing on memory to solve the problem. But devising a new algorithm is critical thinking. Critical thinking is self-directed in that the thinker must be calling the shots: We wouldn't give a student much credit for critical thinking if the teacher were prompting each step he took.
And now, your podcast.






Why does it concern psychologists that the Texas GOP platform recently opposed the teaching of critical thinking? Most of us have been told since we were very young that critical thinking is very important. Psychologists certainly agree and a lot of time spent in most psychology classes is spent learning how to think critically. Why is it such a central part of our classes? And here's a kicker: it might be a lot harder to teach it than we had hoped. Find out why critical thinking is so central to psychology. Sounds kinda dry? I think you'll find this a lot of fun (in a mental kind of way…).



Resources on Critical Thinking

Knowledge-Based Education – We oppose the teaching of Higher Order Thinking Skills (HOTS) (values clarification), critical thinking skills and similar programs that are simply a relabeling of Outcome-Based Education (OBE) (mastery learning) which focus on behavior modification and have the purpose of challenging the student's fixed beliefs and undermining parental authority. – 2012 Platform of the Republican Party of Texas

School Health Care – We urge legislators to prohibit reproductive health care services, including counseling, referrals, and distribution of condoms and contraception through public schools. We support the parents' right to choose, without penalty, which medications are administered to their minor children. We oppose medical clinics on school property except higher education and health care for students without parental consent. — 2012 Platform of the Republican Party of Texas