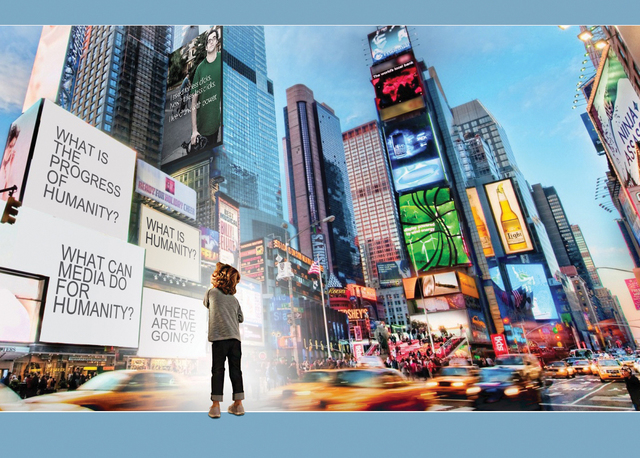 As media - in all of its forms - shapes more and more of our experience of the world (if we let it, and most people do, knowingly or unknowingly), this talk is highly relevant. How much of our experience do want to have shaped by forces and values far removed from our lived reality?
Unfortunately, not enough people are asking these questions.
On Thursday, October 18th 2012, Our Humanity Matters (OHM) held its first panel discussion at The New School titled, "Examining the Role of Media in the Human Experience." The goal of this talk was to build the framework for a continuing debate around one of the most important subjects facing humanity today -- media. "Mass media has become part of our nervous system," says Tanja A. W., director of OHM. "Therefore, if we hope to build a sustainable future and culture of wholeness where interconnectedness with all would be seen as an intelligent and enlightened way of being, then we must address this very fundamental issue."



OHM is a non-profit organization designed to further the understanding of humanity and its spiritual and existential challenges in mass media culture. The panel included leading cultural and media theorist, Douglas Kellner, George Kneller Chair in the Philosophy of Education at UCLA; Politics and Aesthetics, Ecology and Technology expert Verena Conley, Long-Term Visiting Professor of Comparative Literature and of Romance Languages and Literatures at Harvard University; and The New School's own, award winning composer, Barry Salmon, Associate Professor at the New School for Public Engagement; and moderator Tanja A.W., director of Our Humanity Matters.

THE NEW SCHOOL



Location: Theresa Lang Community and Student Center, Arnhold Hall




10/18/2012 2:00 p.m. - 3:30 p.m.