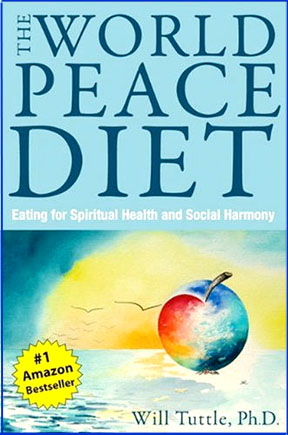 According to
Wikipedia
, Will Tuttle is a former Zen monk who studied in Korea. He holds a master's in humanities from San Francisco State University and a PhD in the philosophy of education from the University of California, Berkeley. He often speaks at vegetarian, spiritual, and animal rights conferences and at local vegetarian societies. He also speaks about inner and outer peace and harmony in the context of a vegan diet.
I support the majority of his views, but I am an omnivore - and I try to eat organic, free range chicken, turkey, grassfed beef and elk, and wild caught salmon. Yes, the world might be a better place if people like me stopped eating meat altogether, but alas, I am a human being in a human body and I give my body the nutrition it needs. I tried being a vegetarian for a while (and I know more than most about how to combine foods to get adequate amino acids), but I was not able to get sufficient nutrition for my lifestyle.
Take that for what it's worth - your results may vary.
About
The World Peace Diet
:
VegNews
reviewed Tuttle's book with considerable praise, suggesting he sought to
"...lift the discussion of veganism to a higher level. He argues cogently for a spiritual component, one where the consequence of using and consuming animals, so ubiquitous in human society, affects us not only in ways that can be measured physically, but spiritually as well. He convincingly shows how science and patriarchical religions, so often at odds in Western Society, are both cut from the same cloth—one that reinforces the domination of women, animals and nature in order to further the interests of the ruling elite. Yet for all of the complexities of how we ended up where we are, Tuttle's remedy of spiritual veganism is offered as the cure for what ails us."
At the site for the book, they offer some free downloads, which I will link to below. But now, on to our feature presentation.
If you wonder how the food you eat affects your health and well-being and that of those you care about, you shouldn't miss this talk. Will Tuttle delivers an inspiring talk about the food we choose, where it comes from, and how it affects us physically, culturally, and spiritually. You will learn how we have become disconnected from our innate wisdom, and how to make positive changes that promote wellness, encourage wisdom and abundance, and minimize our eco-footprints on the Earth.
Free downloads from Will Tuttle and his website:
1 - "Intuitive Cooking" - A PDF file of plant-based recipes by Madeleine Tuttle




2 - "Living in Harmony with All Life" - an audio discourse by Dr. Will Tuttle - English & German



These works are licensed under a Creative Commons Attribution-Noncommercial-No Derivative Works 3.0 Unported License.

To download "Intuitve Cooking" and/or the MP3 audio file of the 75-minute CD, Living In Harmony With All Life by Dr. Tuttle, please enter your email address here. You will automatically be taken to a page with the download links.
Downloading the PDF books below requires the submission of a first name and email address at their page, linked to at the top of the section.
Click here to download a printable PDF file of The World Peace Diet by Dr. Will Tuttle

Click here to download a Spanish-language printable PDF file of The World Peace Diet by Dr. Will Tuttle