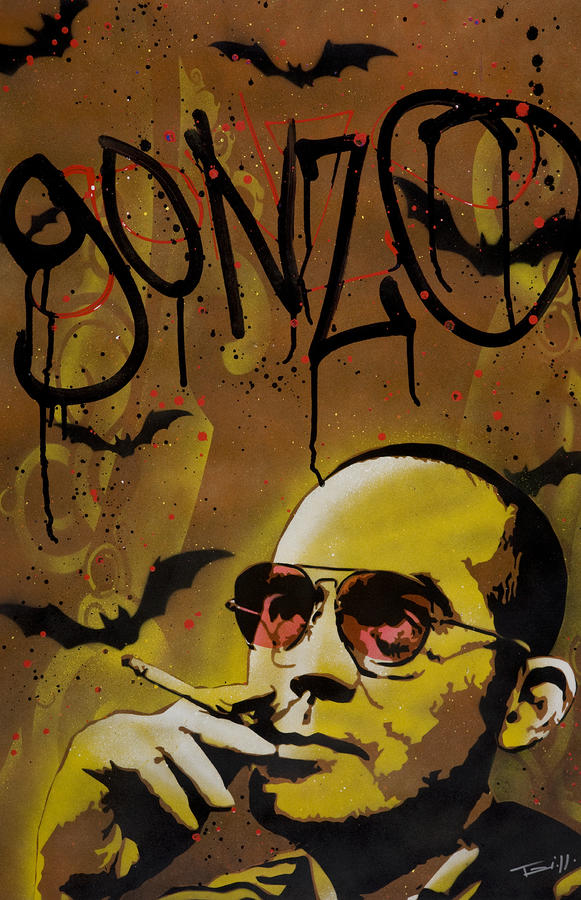 Open Culture
has posted this 1978 documentary from the BBC on
Hunter S. Thompson
, who even by then had lost himself in the myth of himself. It's revealing and interesting.
August 10th, 2012
"It's been four years, maybe five," mutters artist Ralph Steadman as his flight descends into Colorado. "I don't know what the man has done since then. He may have terrible brain damage." He speaks of a famous collaborator, a writer whose verbal style the culture has linked forever with Steadman's own visual style. "He has these mace guns and CO2 fire extinguishers, which he usually just aims at people," Steadman's voiceover continues, and we know this collaborator could be none other than Hunter S. Thompson, the impulsive, drug- and firearm-loving chronicler of an American Dream gone sour. Many of Steadman's fans no doubt found their way into his blotchy and grotesque but nevertheless precisely observed artistic world in the pages of Thompson's best-known book, 1971′s Fear and Loathing in Las Vegas — or in those of its follow-up Fear and Loathing on the Campaign Trail '72, or alongside his "gonzo" ground-breaking article "The Kentucky Derby is Decadent and Depraved." Fear and Loathing on the Road to Hollywood, the BBC Omnibus documentary above, finds the men reuniting in 1978 to take a journey into the heart of, if not the American Dream, then at least the ostensible American "Dream Factory."

As Steadman's British, middle-aged stolidness may seem surprising given the out-and-out insanity some see in his imagery, so Thompson's famously erratic behavior belies his words' sober (as it were) indictment of America. He wrote of Thomas Jefferson's belief in America as "a chance to start again [ .. ] a fantastic monument to all the best instincts of the human race." But alas, "instead, we just moved in here and destroyed the place from coast to coast like killer snails." We see him cruise the Vegas strip, suffer a fit of paranoia by Grauman's Chinese Theater (though I myself react similarly to Hollywood Boulevard), and take a meeting about the film that may or may not have become Where the Buffalo Roam, which featured Bill Murray in the Thompsonian persona. We see archival footage of Murray helping Thompson out with his sardonic "Re-elect Nixon in 1980″ campaign. We even see Thompson have a hotel-room sit-down with Nixon's White House Counsel John Dean, who testified against the President in the Watergate trial. Between these segments, Thompson reflects on the wild, substance-fueled persona he created, and how it had gotten away from him even then: "I'm really in the way, as a person. The myth has taken over." But he always had an eye on the next phase: at the documentary's end, he draws up plans for the memorial mount and cannon that would, 27 years later, fire his ashes high into the air.

[NOTE: Fear and Loathing on the Road to Hollywood's narrator refers to Thompson as a former Hell's Angel. In fact, he only rode alongside the Hell's Angels, collecting material for the book Hell's Angels: The Strange and Terrible Saga of the Outlaw Motorcycle Gangs. Remaining a non-member all the while, he even bought a British bike to distinguish himself from the Harley-Davidson-dedicated gang.]

Look for Fear and Loathing on the Road to Hollywood in our collection of Free Movies Online, under Documentaries.

Related Content:
Colin Marshall hosts and produces Notebook on Cities and Culture. Follow him on Twitter at @colinmarshall.