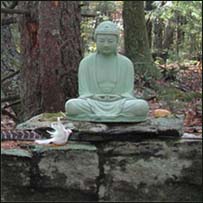 Here are a couple of recent dharma talks by Buddhist neuroscientist Rick Hanson, given at
Spirit Rock Meditation Center
, where he is a frequent teacher.

Rick Hanson

Rick Hanson, PhD began meditating in 1974 and has practiced in several traditions. A neuropsychologist, writer, and teacher, he co-founded the Wellspring Institute for Neuroscience and Contemplative Wisdom (see www.WiseBrain.org) and edits the Wise Brain Bulletin. First author of Mother Nurture (Penguin, 2002), his latest book is

Buddha's Brain: The Practical Neuroscience of Happiness, Love and Wisdom

(with Rick Mendius, MD; Preface by Jack Kornfield, PhD and Foreword by Dan Siegel, MD). He started sitting at Spirit Rock in 1993 and recently completed a nine-year term on its Board. A graduate of the Community Dharma Leader training program, he leads a weekly meditation group in San Rafael.



Tags: