[I originally posted this on July 3rd over at my Zaadz blog (easier photo formatting). But I wanted to post it here as well. I plan to talk a bit more about this adventure as soon as I have it clear in my head.]
This morning Kira and I split up and did our own thing. I did a hike/swim called The Narrows. It follows the main canyon that Zion Park occupies – the Virgin River – all the way up into the canyon. The hike itself, full distance, is about 5 miles each way. I did about 3.5 miles (each way). [There's a longer 16 mile version as well.]
The hike starts out pretty mellow.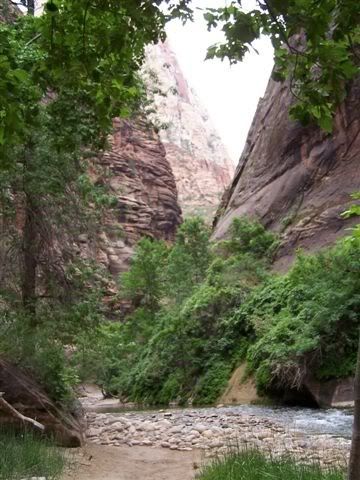 But it starts to get a lot more narrow as you get in about a mile or so. The cool thing is how high the walls are – between 1,500 and 2,000 feet straight up in places.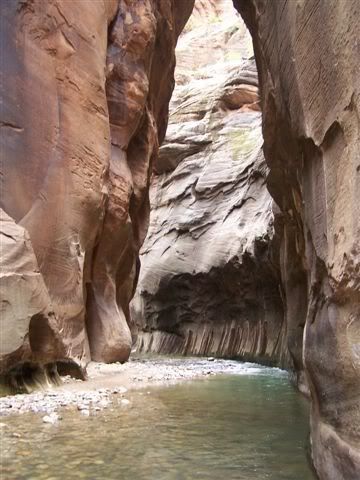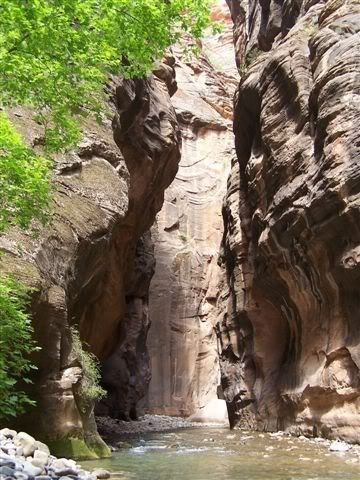 Some of the patterns and markings on the walls are extremely interesting. All of the walls are seeping water in lesser or greater degrees. It takes 4,000 years for rain water to seep all the way through the stone.
As you get further in, the walls are only about 25 feet apart in a lot of places.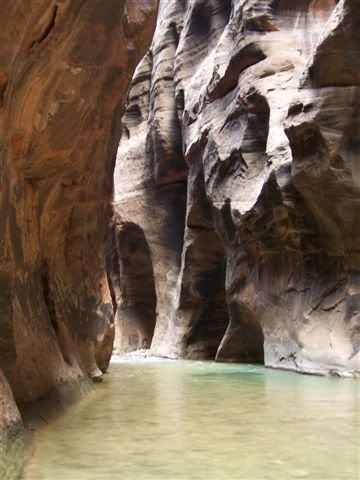 As I got up to the place where I stopped (lack of time), the water was chest deep and there was no way around it. You have to wade through carrying your pack over your head.
The sun was just starting to get visible in the canyon bottom – around 11:45 in the morning.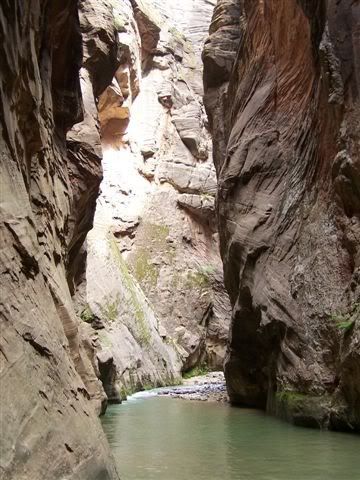 The trip was amazing. I'm so glad Kira and I agreed that I should do this. It's proof that I can ask for what I want and get it in this relationship – what a novel concept.
It was also a great way to let my inner child have his fun – I used to do things like this a lot when I was young, though not so intense. But it was fun to get all wet and have it be okay. And it was fun to explore a side canyon for 45 minutes and not have to worry about anyone else.
I highly recommend this hike to anyone who comes to Zion and can endure the physicality of it.
Technorati Tags:
Vacation
,
Zion National Park
,
Utah
,
The Narrows