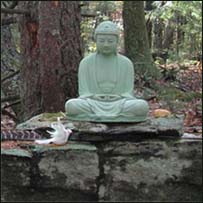 Here is the 4-part series from neuropsychologist Rick Hanson and
Rick Mendius
- delivered at Spirit Rock Meditation Center. Hanson and Mendius work together at
WiseBrain.org
.
Richard Mendius, M.D.

, is a board certified neurologist in private practice in Marin County, California. He graduated from Stanford University, then attended medical school at the University of California, Los Angeles, where he received his M.D. in 1977. He trained in neurology at the Wadsworth VA Medical Center in Los Angeles under the direction of Dr. W. W. Tourtellotte, then did fellowship training in clinical electroencephalography and clinical epilepsy under Dr. Jerome Engel at UCLA Medical Center. He also did simultaneous training in neurobehavior under Drs. Frank Benson and Jeff Cummings. He has held faculty positions at UCLA School of Medicine, Oregon Health & Science University, and Stanford University School of Medicine. During his teaching career, he received the OHSU Silver Hammer award and the Stanford University Lysia Forno award for teaching excellence.
Dr. Mendius has a subspecialty in the neurobiology and practice of meditation. His meditation practice began in Los Angeles, with training from Shinzen Young in the 1980s. Since moving to Marin County, he has made Spirit Rock his home base and has taught classes and participated in retreats with Jack Kornfield, among others.
* * *
Rick Hanson, PhD began meditating in 1974 and has practiced in several traditions. A neuropsychologist, writer, and teacher, he co-founded the Wellspring Institute for Neuroscience and Contemplative Wisdom (see www.WiseBrain.org) and edits the Wise Brain Bulletin. First author of Mother Nurture (Penguin, 2002), he has authored the books Buddha's Brain and Just One Thing. He started sitting at Spirit Rock in 1993 and served a nine-year term on its Board. A graduate of the Community Dharma Leader training program, he leads a weekly meditation group in San Rafael.
On with the podcast . . . .
50:40 | 2013-03-16



Download Listen Order



The latest brain research has begun to confirm the central insights of the Buddha and other great teachers. And it's suggesting ways you can help your brain to enter deeper states of mindfulness, quiet, and concentration. Suffering, joy, and freedom all depend on what happens within your nervous system. Skillful practice thus means being skillful with your own brain. This experiential workshop will offer user-friendly information with lots of practical methods. No background in neuroscience or mindfulness is needed, though teaching are also appropriate for health care professionals.







Implications from brain research for steadying the mind... quieting it... and bringing it to singleness

The brain during the jhanas or other states of deep concentration

How to help lay the neurological foundation for liberating insight